Rainfall is always very fascinating many of us would love to stay in the rain for longer periods. But this is something that's only in nature's hands. Still, there is one solution for this and that is rainshower heads. You can install them in your bathroom, here we are going to discuss are rain shower heads worth it.
We are going to cover some details about rain showerheads and their advantages and disadvantages, what are the different types of rain showerheads, and are rain showerheads worth it? 
What Is a Rain Shower Head?
First thing is to know completely about rain showerheads. It is a showerhead that is usually installed in the ceiling of bathrooms. Although some new models can be installed on the sidewall also. It comes in different shapes, that might be circular, rectangular or square, etc. Showering beneath them simply gives you a rain-like experience.  
Different Types of Rain Showerheads
There are two different types of rain shower heads, the first one is ceiling mounted and the other one is wall-mounted.  
Ceiling Mounted
This type of rain shower head needs installation and you need a proper plan and plumbing services also. It comes in different sizes and multi-functions. Size ranges from 8 cm in diameter and bigger. Before choosing the size, look for your water availability as the bigger one uses more water. 
Wall Mounted
This type of rain showerhead is easy to install and does not require new installations. This one also has multi-function varieties and different sizes. 
It is better to look for multi-functions in wall-mounted rain showerheads than in ceiling-mounted ones because it would be hard to adjust and change the function of ceiling-mounted rain showerheads. 
Are Rain Shower Heads Worth It?
Usually, Rain showerheads are more expensive than their counterparts. If you looking for the answer to why rain showerheads are so expensive or are rain showerheads worth it? You need to do some research about this. 
These showers give you a very realistic rain-like experience. But there are some advantages and disadvantages to them. Firstly, we are going to discuss them in this article. And afterward, we will conclude whether are they worth it. 
Rain Showerhead Pros and Cons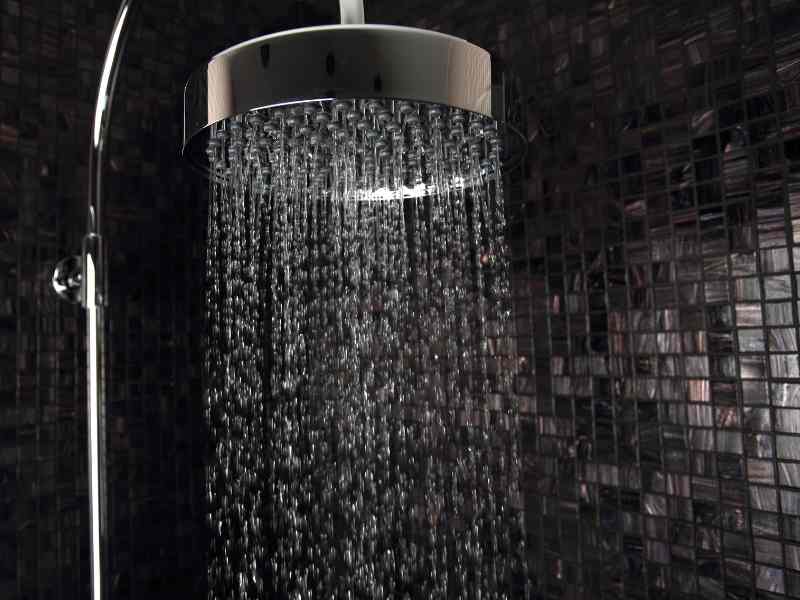 Let's have insight into the pros first.
Feels like a rainfall
The most fascinating thing about them is that they give you a real rain experience. Stand beneath it and start the flow, you would not want to get yourself out of the shower anytime soon. This is a soothing, energizing, and refreshing experience. 
Water Spraying
It has a very stable and balanced shower pressure. The head contains so many small spray nozzles because of this you get a nice and thorough water spray. 
The Shower's Head is adjustable
The showerhead comes with adjustable features. You can adjust its height and also the direction of the spray. Whatever is your height, you can adjust it as you like.  You can also adjust the water flow direction by moving the head as it contains a swivel mechanism. 
The shower covers your full body
The rain shower head comes in different sizes, starting from 8 inches. This means you get full coverage of your body when you are bathing. Moreover, you don't need to adjust your body position because its large area head covers all of your body.  
This washes your body from head to feet evenly. This feature comes because it is fitted to the ceiling of your bathroom. 
Spray varieties
Rain shower heads come with a variety of flow regulators. That means you can control water pressure according to your mood. Pressure ranges from lower to moderate. 
Steady, gentle, and smooth water flow
Regular showerheads have a comparatively harder water flow but this one has the advantage of a very smooth and gentle water flow. It has a steady flow that gives you a soothing and relaxing experience. 
Easy to clean  
Another main benefit of rain shower heads is that it is very easy to clean. You can clean it with your hand as it has nozzles made up of rubber. Just a wipe can clean them for you. 
Aesthetic design
Their aesthetic design makes them preferable as it gives a very stylish and classy display to your bathroom. You feel like you are in some nice fancy hotel bathroom. 
Cons of Rainshower Head
Now we shall look at the disadvantages of rain showerheads. 
Not budget-friendly
Rain showerheads are expensive. All the qualities mentioned above come with a heavy price. 
Longer shower time
Not everybody has access to excessive and cheap water. Considering this factor the rain showerheads have a big disadvantage. It's not because they use more water than regular showers, it's because you spend a long time showering. That results in more and more water usage. 
Installation Process
Installing a rain shower head can be a bit more complicated. This is because water pipes are installed in the ceiling, which requires professional plumbing service. This may cost you extra because you might need to remodel your bathroom.
Note: some new models fit into the wall, this might save you from all the headaches. 
Not Eco Friendly
Rainshower heads result in longer shower times, which in turn result in more water usage. This means more waste of water. That surely is not an eco-friendly product. 
Some more features to look for in rain shower heads
Rain showerheads are made up of plastic or metals. If you want a durable head, go for the metal one. But if you are looking for a cheaper option then a plastic rain shower head is best for you. 
Try to look for a showerhead that does not waste more water.  
Choose the rain shower that matches the decor of your bathroom. It should be elegant and eye-catching. 
Choose the showerhead that matches your local water supply pressure. It should amaze everyone who visits your bathroom for the first time.  
Before buying one, look for the space you have to install this in your bathroom. It comes in different sizes, chosen according to availability and need. 
What people are talking about rain shower heads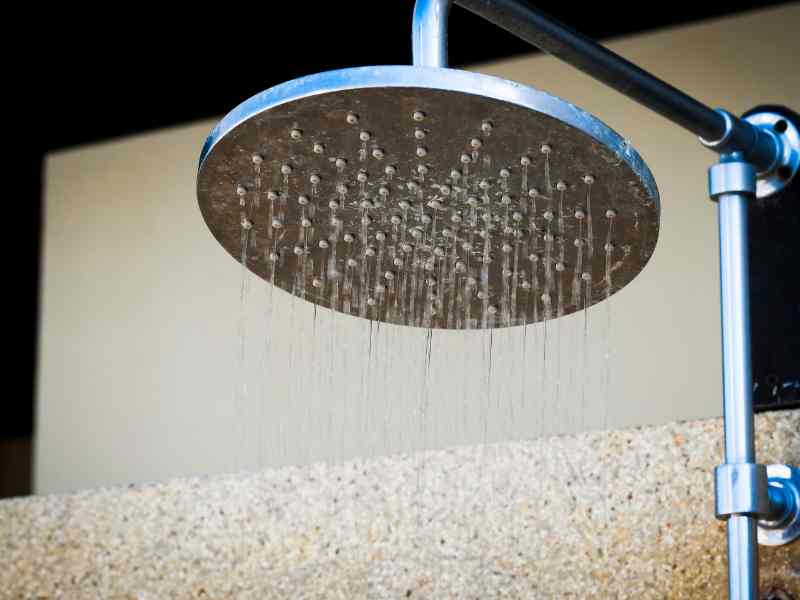 One user said he had difficulty rinsing the soap away from some areas of his body, like the armpits. This is because water comes straight down from the head and does not cover every part of the body. 
One said that he like a powerful shower spray that comes in regular showerheads and rain showerheads lack this. 
There are options in rain showerheads to massage your body with the shower. But this also has a drawback because if you want to massage a certain part of your body and not the head or shoulders, you will not be getting that where you need it. 
Some have issues related to water usage, they cannot afford longer shower times, which also restricts them from having these showerheads. 
Some people used both rain showerheads and regular showerheads in their bathroom, if they want to relax and have a faux rain experience, they would use a rain shower. And if they want a shower to clean themselves, they prefer regular showerheads. 
Conclusion
Rain showerheads provide a relaxing shower experience and give a luxury touch to your bathroom. We have already looked into their benefits in detail
Besides all those plus points, they have drawbacks too which can not be avoided. These drawbacks are also discussed earlier. 
If we look into the plus points and pros of rain showerheads we can imagine that these features are not easy and cheap. It is understood thing that research and development, product design, innovative technologies, and sustainability comes with a price. These are the main reasons why they are highly-priced. 
But another thing to be considered is their comparison with other showerheads available. We have heard the opinion of users of different showerheads. According to those opinions, rain shower heads also lack in those areas where they are supposed to be performing very well. For example, they are known to be best for a massage while you are showering. But you cannot control which part of the body you need to get massaged.
There are good options in regular showerheads that can offer you a  good pressure shower and by using them, you can also control which part of the body you want to get massaged or showered. 
Another example is that it gives you a rain-like experience. You can enjoy your bath with faux rain. But again there is a limitation in that also, you cannot stay longer in the rain showerheads as it would cost you water loss.
Keeping these points in mind, we can conclude that it's better to have a regular showerhead rather than costly rain showerheads.