If you want to enjoy the dramatic growth of heuchera, then stay connected with us. We will go to see how to plant heuchera in detail and advise you on the best steps for its growth.
A shade-loving plant
These heucheras are shade-loving plants. They have amazing, huge leaves that come in several forms and are then used in several forms. Yes, you can use these leaves in different arrangements.
About the heucheras plant:
The heucheras foliage is the best for the winter season and autumn garden container planting. As summer approaches, we begin to assess container gardening as a way to add color to the winter garden.
This heuchera plant gives you amazing colors throughout the year but it provides colorful attractive flowers during winter.
Sometimes it gives less attractive sprouts during summer.
The ancient history of Heucheras:
In past years, heucheras found in the ground had tiny, rounded, relatively ragged green leaves with extraordinary trunks that produced little flowers in the summer.
family:
These evergreen perennial plants belong to the family name Saxifragaceae and have more than one different name.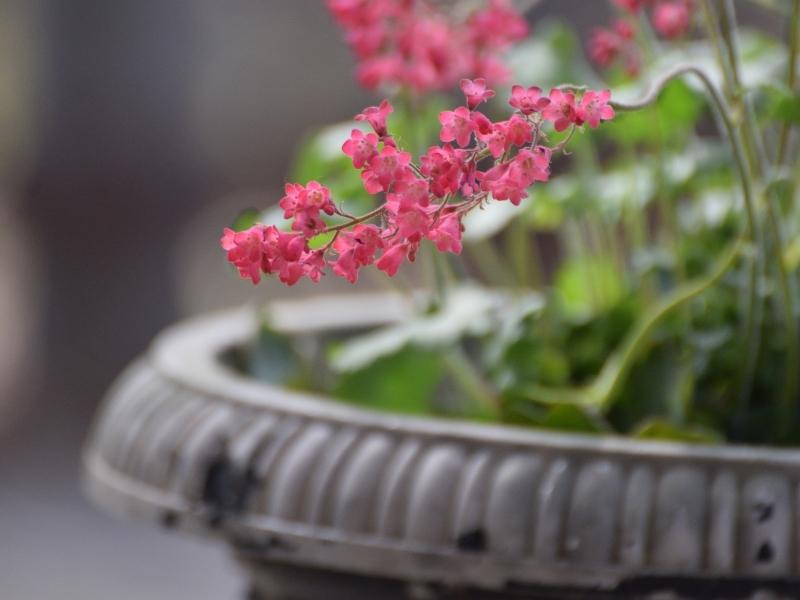 Some common names:
The widespread name of this plant is a coral flower or "alum root".
The Heuchera plant is also called " Palace Purple," grown at Kew Garden. Kew garden was a Queen's palace. This Plant is famous for its impressive and stunning foliage.
This sturdy plant is still available and is perfect for use as ground cover around deciduous shrubs.
The specialty of the heuchera plant
They are healthy plants, and it takes only six to seven months to grow in a variety. It will grow in almost all soil types and different positions.
Also read,
How To Plant Foxglove Seeds In Pots And Care
How to Plant Dragon's Blood Sedum
Zone of Growth of Heucheras
Most of these heuchera plants usually grow in North America as they are all native to this area. It was the first plant that was exported back to Europe by early American explorers. It was first launched in the UK in 1882.
How can you buy Heuchera?
They are easily available worldwide but a large range you will find on different online platforms.
Varieties of Heuchera plants:
This plant has a wide range of varieties and has different traits that vary according to the various types.
Heuchera blackberry jam
 It has maroon-colored foliage and a vein, darker vein. The plant growth is suitable in partial shade as well as in sun. Its 15cm height makes it an ideal option to plant in small gardens
Heuchera Autumn Cascade  
They are rich in color having red and autumn brown colored foliage. You will find beautiful small flowers between June and August.
Heuchera Glitter 
They have shimmering silver foliage with darker veins and the plant will give you pink flowers. They have one of the best flower collections.
The Heuchera Gold Zebra
They have foliage light green with maroon markings. Are suitable in partial shade only
Heuchera Cappuccino
They have maroon and chocolate leaves with small white flowers. The height of these plants is usually 30 to 31cm.
Heuchera Blonde
They have beautiful copper and caramel foliage having creamy yellow color flowers. The plant has the characteristics to grow in both partial shade and full sun conditions.
Can you plant heuchera in a container?
Usually, little plants in a container or a pot look more wonderful than in the ground and the one other benefit of doing this is that you can quickly move that plant to a desirable place.
So yes,
You can plant heuchera or coral bell in a container without any dilemma with well-furnished head soil.
Precautions:
Don't wrap the top of the plant with either soil or any other thing.
What kind of container can you use?
This plant has superficial roots so they don't need a wide and thick container, but you must add a layer of mulch to the pot to help retain vapor moisture.
Condition to grow heucheras plant in the container:
 These shade-loving coral bells need some condition to grow, some of them are as follow:
This heuchera plant or coral bell needs sunlight to grow although the amount of light can vary as we discuss below how they can grow in full sun or in dim light too.
They need loam-based compost if you are growing them in containers.
For the ideal growth of coral bells, it needs direct sunlight for approximately 4 to 6 hours.
They can grow well in a maximum typical soil.
Soil having PH 6 to 7 is the ideal soil for its growth.
Too wet or too dry soil can retard its growth.
Steps to plant heucheras in a container
While planting heucheras in containers keep in mind these steps:
1. Container
You have to use a pot or container that is 2-3 inches wide than the root ball because in a tiny container there is no space for the roots to develop. 
Soil having sufficient nutrients will be better to use. Poor soil may cause a deficiency in root growth. For this purpose, you can simply mix garden soil with compost.
Heucheras don't need a really deep pot or container, but you have to add a layer of mulch to the pot or container to boost or retain moisture and it also protects vine weevils from plopping eggs.
Don't wrap the top of the plant with mulch– this is the place where the stems start to branch up or out from the main plant.
A stem should not be immersed in the ground. Cover all free areas with soil.
Don't forget to maintain a gap of a minimum of 1-3 inches b/w soil level in the pot and the edge of the container. It will keep water from seeping from height.
2: Exposure:
Sun exposure to this heuchera should be semi-shade. Semi-shade exposure will give the plant a more intense color. The morning sun for 2 hours is the best time because during this time the plant can easily boost with heat.
If your plant absorbs excess heat then the leaves burn and brown spots appear, then gently move the plant to a lighter place.
3: Water:
Water them regularly but give rise to the water that can drain from the container. or this container should have a minimum of 4 drainage holes. 
Self-watering containers are also helpful. Use water vastly so that it will absorb all the soil and then the excess water comes out through the holes.
After watering the plant, place them immediately in a full shady area for a few weeks.
In Summer conditions:
It's good to nourish them fortnightly with tomato food because the leaves may fade due to heat. 
Also, don't forget to use a few minerals or fertilizers. In every spring one fertilizer is enough for the plant to grow all season. Avoid using fertilizers in winters
After approximately 5 years, coral bell foliage starts to flatten down.
Rehabilitate the plant by pinching and halving it, using the corps to propagate new plants.
In Winters condition:
They need proper care as they dry out and this dryness will kill the plant so you have to add a heavy layer of mulch around the root of the plant every autumn, to prevent your plant from drying.
References
https://www.gardenersworld.com/how-to/grow-plants/how-to-grow-heucheras/