Container gardening with multiple plants is always fun. If you have a container and a place to spot this container then you will enjoy this fun. Growing multiple plants in a single container is the most demanding practice in the gardener's community. 
Let's discuss how to plant multiple plants in a container using some tricks.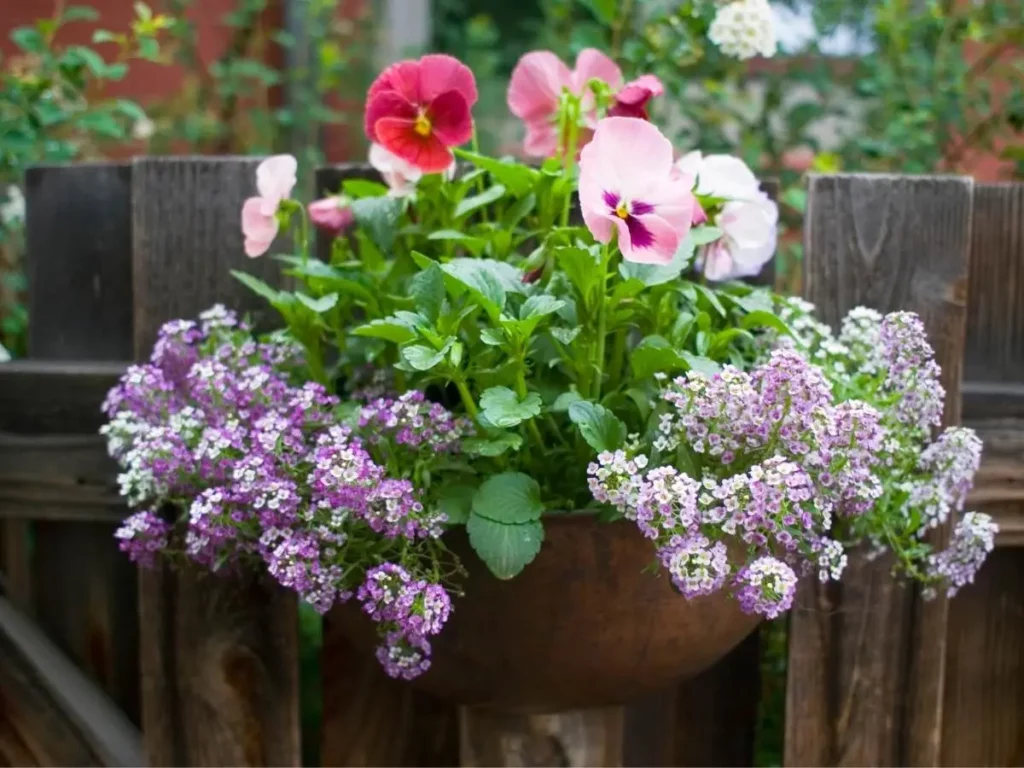 Can you plant multiple plants in a container?
Absolutely, by maintaining simple conditions you can easily grow multiple plants in a container. You can show how different plants can stay together in a single container, simply using your gardening abilities.
You can plant different shrubs, herbs, and vegetables inside a container.
Companion plants
While planting multiple plants in a single pot, a term we usually use called "companion plant'
These are the plants that can absorb the same light as their other neighboring plant absorbs. They have a similar water regulation system and have the same nutritional demand.
So they help each other to grow in the same pot or container by using the same conditions in the same environment.
How do you plant multiple plants in a container?
Follow the following steps while planting multiple plants in a single container or pot.
Choose a container having a proper drainage system. A minimum of one to two holes should be there in the pot. These holes help water to seep down from the container easily.
Choose the plant by keeping it in contrast and balancing the difference between multiple plants. If you are placing your container under full light or Sun then select the plant that needs proper light.
Don't forget to add or sow flowering plants with non-flowering plants. At least add two to 4 flowering plants for 1 non-flowering plant. Choose different types of plant
If you're planting filler and thrillers, then make sure to place them in the perfect position or arrangement. By doing this, they have more space to expand during their growing tenure.
Don't forget to water your container. The watering requirement of a plant largely depends on the weather condition. Provide water to your plant according to the weather condition.
Multiple plants will intake more fertilizers from the soil as correlated to other neighboring plants, they need more fertilizers.
Adding fertilizer to the container is compulsory. You can add fertilizer right after planting your plants or add this in the middle of the season.
Plants that you can grow together
Try to plant three types of plants in your container. Let us now discuss some types of plants that you may consider growing together. 
Filler Plants
You can give your garden a good design by planting filler plants. They have attractive, textured, and colorful foliage. And the most important thing is that it lasts for all seasons.
Some advantageous filler plant are as follow
Basil plant
plume flower that is also called Celosia
Fuchsia filler plant
Ornamental cabbage is also a filler plant
Trailing Plants 
The trailing plants will make your container cohesive. They have better developing abilities. Perform well in both cool and warm weather. You can change them effortlessly when the weather changes.
Here we have a list of trailing plants for you
Verbena plant
Calibrachoa plant
Alyssum plant
The Asarina plant is also called chickabiddy.
Tall Focal-Point Plants
Tall plants give your container look and diversity. But if you are going to plant a tall plant in your container, then first check the size of your container. The choice of the plant depends on the size of the plant.
Here is a list of some commonly used tall focal point plants.
Hibiscus plant
Agave plant
Monterey cypress plant that is also Cupressus macrocarpa
How do you combine potted plants?
If you are going to maintain a pot in which different plants grow together,  then follow the given below steps:
Don't forget to contrast and balance the different plants that you are growing in your container.
Do a little research before going to plant multiple plants in a container.
Container size matters a lot in planting multiple plants.
Check the plant's height according to the height of the pot. The height of the plant shouldn't be double the height of the container
Try to add one taller plant or one filler plant to your container.
Tip for growing multiple plants
If you are going to plant multiple plants in a container then try something different, try to add plant types having different colors to your pot. It will be fun. It will give your garden or your container an attractive look.
If you want to show off the color and attractive appearance, don't use trailing plants in your container.
Growing two plants together
You can also grow two plants together by using a simple technique called the Grafting technique. 
In this technique, a wound is created on a plant at any part of the plant, and the second plant is inserted into it as a result of which the tissues of the two plants start growing with each other
FAQs
How many plants per container?
Don't forget to check the space or size of the container. A regular 12 inches container can hold around three to four plants. Similarly, for a 20-inch container, you can add up to eight plants. Keeping this parameter in mind can help you decide the number. 
How close should companion plants be to each other?
If there exists a beneficial relationship between two companion plants then you should plant within two rows or in some cases three.
But if they have a detrimental relationship then they should be planted apart. At least should be planted 2 to 3 rows apart.
What plants should grow better together?
Onions have the ability to grow well with carrots, peppers, and lettuce. 
Cabbage will grow best with potatoes, beets, and spinach.
Corn will grow best with cucumber, peas, and beans.
References
https://www.gardeningknowhow.com/houseplants/hpgen/growing-companion-houseplants.htm
https://www.thespruce.com/choosing-and-combining-plants-for-container-gardens-1402062